---
---
SUMMER IN BIKOL FIELDS 
Learning governance at ground level 
CenPEG.org
Posted on August 9, 2017 
All of them were first timers to Bikol, travelling on June 14 for a 10-hour night trip from Cubao to Naga City where a one-week community immersion awaited them. By the time it was over, the 14 incoming senior political science students from the University of the Philippines (Manila) took with them narratives of living with the simple folk of a remote barangay in Canaman, Camarines Sur, immersing under conditions of rural poverty, and experiencing ground realities never seen or discussed inside a UP classroom.
---
Prospects and Intricacies of a Peace Agreement in the GPH-NDFP Negotiations
Bobby M. Tuazon
CenPEG Director for Policy Studies
9th State of the Presidency (SOP)
July 20, 2017
The peace negotiations between the government (GPH) and National Democratic Front of the Philippines (NDFP) resumed last year in an upbeat mood with both sides agreeing to fast track the process. A year later, the talks has lost its steam and is proving to be a difficult and protracted one with a probability of meeting the same fate as in previous negotiations.
---
THE CIA IN THE PHILIPPINES: A BRIEF HISTORY
Roland G. Simbulan
For Filipinos, the fundamental question that we can ask ourselves is, shall we allow this continued intervention in Philippine political and economic life?
---
Singapore envoy sees 'peace and stability' in ASEAN region
March 21, 2017
Anticipating the Association of Southeast Asian Nations' (ASEAN's) 50th anniversary summit in the Philippines late this year, Singapore's ambassador to Manila believes that the regional association has gone a long way with nary any divisive conflict since its membership expansion in the 1990s.
---
---
From a defender of the status quo to a change advocate
---
---
CenPEG welcomes new Fellows
CenPEG.org news
Dec. 16, 2015
New Fellows of the Center for People Empowerment in Governance (CenPEG) were formally welcomed to the policy think tank with an induction on Dec. 12, 2015 in Quezon City.
---
CenPEG releases travelogue
CenPEG News
Nov. 16, 2015
A travelogue launched on Oct. 17, 2015 was CenPEG's 16th book release in 11 years since it was founded. But it was a different kind of travelogue.
---
"FAST"! "EFFICIENT!" "TRANSPARENT" "A LOT CHEAPER!" "KAYA PALA NG PINOY!" (Filipino IT can do it!)
Thus exclaimed students, teachers, NGO leaders, Church leaders, and even one Comelec official. They referred to TAPAT (for TrAnsPArenT Election System) – an alternative election technology solution designed by father-and-son tandem, Arnold and Angelo Villasanta.
---
---
Peasant leaders, land reform advocates launch new movement
CenPEG News
June 8, 2015
About 300 peasant leaders and land reform advocates from all over the country launched the Philippine Land Reform Movement (PLRM) on May 28, 2015 at the University of the Philippines' CSWCD Building, Diliman, Quezon City.
---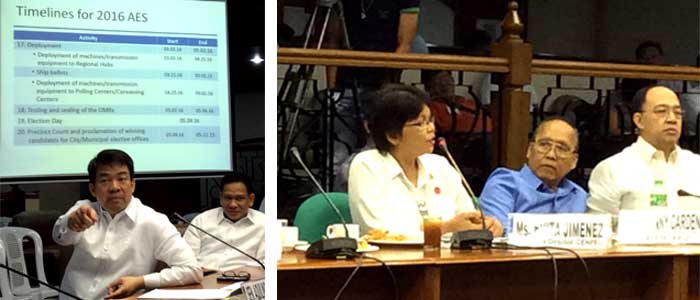 JOINT CONGRESSIONAL OVERSIGHT COMMITTEE: JCOC hearing of May 14, 2015 shows Sen. Koko Pimentel (left photo) presiding. CenPEG Executive Director and AES Watch convener Evi Jimenez (left, right photo) asks, who's the real owner of PCOS? (See related story in the Political Parties and Election section) Photos by Nelson Celis, AES Watch
---
The bloodbath that reopened old wounds
CenPEG.org
March 3, 2015
THE REAL VOICE of the Bangsamoro people must be heard in the search for a just and lasting peace in Mindanao, southern Philippines.
---
Bangsamoro substate
Antecedents, restructuring, possibilities
Julkipli Wadi
Philippine Daily Inquirer
Talk of the Town
February 22nd, 2015, A16
---
ASEAN-India: Building Youth Partnerships through Culture and Entrepreneurship
January 8, 2015
The Ministry of External Affairs India, in collaboration with the Confederation of Indian Industry (CII), hosted the seventh ASEAN-India Students Exchange Program last Nov. 9-18, 2014.
---
CenPEG forges research exchange and partnership with Jinan University
January 7, 2015
The Center for People Empowerment in Governance (CenPEG) recently forged a research cooperation and partnership with the Jinan University's School of International Studies (SIS) to exchange studies on Philippine-China relations, Southeast Asia, regional security, and other issues.