2 CenPEG Fellows receive distinguished awards this year
CenPEG.org
Sept. 30, 2019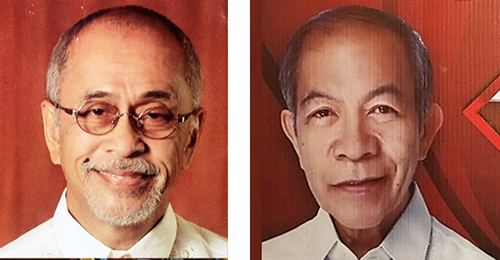 Bonifacio "Boni" Ilagan, CenPEG Fellow for culture, and Temario C. Rivera, CenPEG Board chair and Senior Fellow, have received awards from the University of the Philippines (UP) where both are alumni. Ilagan, a martial law activist and acclaimed screenwriter is the recipient of the U.P. Gawad Plaridel 2019, UP College of Mass Communication (CMC) announced on Sept. 4, 2019.
Rivera is this year's awardee for Democratization and Governance given by the UP Alumni Association (UPAA) at its yearly general homecoming on August 24, 2019.
Ilagan will receive the Gawad Plaridel from UP President Danilo Concepcion and UP Diliman Chancellor Michael Tan in a ceremony at the UP Film Center on Nov. 20 this year. The UP CMC announcement said Ilagan is being recognized for his excellent and "distinctive contributions in various media platforms, including film, television, theatre, among others." In his 43 years of "steadfast and outstanding recognitions, Ilagan has practiced critical, socially responsible, and morally upright service," the announcement added.
The UP Gawad Plaridel comes with a trophy, especially designed by National Artist Napoleon Abueva. Established by the UP CMC, the annual Gawad Plaridel recognizes Filipino media practitioners who have excelled in any of the media (print, radio, film, television, and transmedia) and who have performed with the highest level of professional integrity in the interest of public service.
Among the UP Gawad Plaridel's roster of honorees are: Eugenia Duran-Apostol (2004, print), Vilma Santos (2005, film), Fidela "Tiya Dely" Magpayo (2006, radio), Cecilia "Cheche" L. Lazaro (2007, television), Pachico A. Seares (2008, community print), Kidlat Tahimik (2009, independent film), Eloisa "Lola Sela" Canlas (2011, radio), Florence "Rosa Rosal" Danon-Gayda (2012, television), Jose "Pete" Lacaba (2013, print), Nora "Nora Aunor" Villamayor (2014, transmedia), Ricardo "Ricky" Lee (2015, film), Francisca "Babes" Custodio (2016, radio), Tina Monzon-Palma (2017, television), and Jessica Soho (2018, journalism).
The award is named after Marcelo H. del Pilar (nom de plume, Plaridel), the selfless propagandist whose stewardship of the reformist newspaper La Solidaridad gave voice to nationalist sentiments and libertarian ideas in the 1890s.
Rivera is a retired UP professor and former chair of the UP Department of Political Science. He also served as a tenured professor of international relations at the International Christian University of Tokyo. He has received the following awards: best social science publication from the National Academy of Science and Technology (NAST); Distinguished Leadership and Scholarship awards from the Philippine Political Science Association (PPSA) and the Philippine International Studies Organization (PHISO). He is currently chair of the Center for People Empowerment in Governance (CenPEG).