International conference on China's relations with neighboring countries hosted by Jinan U
CenPEG.org
Posted Jan. 30, 2019
Two Fellows fromt the Center for People Empowerment in Governance (CenPEG) recently were session speakers at the international symposium on "China and its Neighboring Countries: Cooperation, Win-win and Sharing," hosted by the Jinan University's School of International Studies and Academy of Overseas Chinese Studies in Guangzhou, China. The conference, held on Dec. 15-16, 2019, was attended by about 200 academics and scholars from China and Southeast Asian countries including the Philippines.
Prof. Maragtas SV Amante's paper dealt on "Philippine - China maritime silk road connectivity -prospects and constraints," while Prof. Bobby M. Tuazon, CenPEG's director for policy studies, spoke on "The comprehensive and strategic cooperation between the Philippines and China Today: Prospects and Challenges." Amante is also former vice president for administration of the University of the Philippines.
Aside from Amante and Tuazon, the Philippine panel on "Studies on Sino-Philippine Relations" included Aaron Jed Rabena of Asia-Pacific Pathways to Progress; Andrea Chloe Wong of the University of Canterbury, Christchurch, New Zealand; Jane Yukiogsing of Jinan University; and Rahul Mishra of University of Kuala Lumpur.
The two-day conference covered the Belt and Road Initiative (BRI) and China's foreign policy; non-traditional security cooperation between China and its neighboring countries; histories and cultures of China's neighboring countries; cultural exchange between China and its neighboring countries; and overseas Chinese Studies in China's neighboring countries. CenPEG News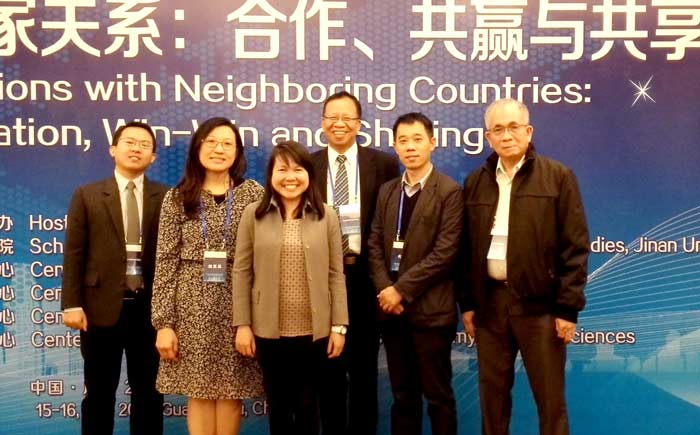 Philippine panel (l-r) Aaron Jed Rabena, Jane Yukiogsing, Chloe Wong, Maragtas Amante, Prof. Dai Fan of Jinan U, and Bobby Tuazon. CenPEG photo


Session on ASEAN study