CREATIVE BRUSHES TO FIGHT PANDEMIC
Kurit Aki child artists hold workshop on Sept. 26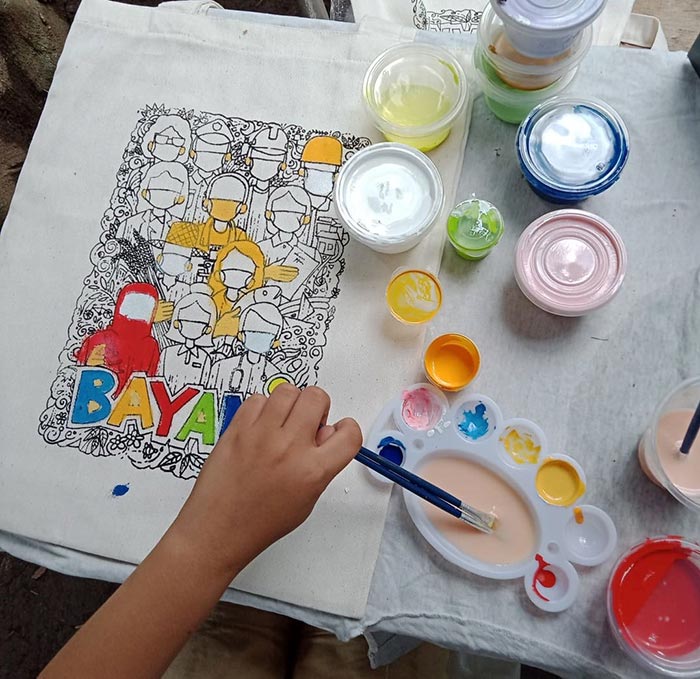 Paint brushes and acrylic paint were the media used by children as they showed their talents in visualizing their thoughts on the Covid-19 pandemic and how they should respond. Wearing face masks and face shields while maintaining physical distancing, 100 children from 10 teams participated in the Kurit Aki virtual workshop for 3 hours held on Sept. 26, 2020.
The teams of child artists came from 10 different barangays in the towns of Canaman, Pasacao, Tigaon, Bula, Minalabac, Naga City, and Ocampo - all in Camarines Sur. On hand were parent assistants and artist mentors from the Kintab Artists Group.
Thirty Agta children from Ocampo in the foothills of Mt. Isarog also joined the workshop. They were gathered for a preliminary orientation and workshop a day before.
Assembled together by Zoom in different farms – houses, "people's farm," organic garden outside a healthy foods café, and schools - the children listened to different speakers talk about the project and psycho-social intervention before art instructors took over to lead the painting workshop. Acrylic painting was done on white tote bags which were pre-designed with visuals and images.
Zoom connectivity, however, was interrupted in some areas because of the ongoing repair of telecommunications cables all over the country.
Despite this, the children had fun and showed serious work as they expressed their best colors and presentation. Lunch was served after the event.
A much-awaited final event is on Oct. 17 which will have a short program and will highlight a virtual gallery of 100 art works
"Kurit Aki Protecting the Children, Saving Mother Earth" is a project of the Center for People Empowerment in Governance (CenPEG) with partners Tabang Bikol Movement (TBM), Kintab Artists, Ilaw ng Kababaihan, People's Organization for Disaster Survivors (Podis), Mariners school system. as well as local barangay and municipal officials.
The project is in cooperation with the National Commission for Culture and the Arts (NCCA).