Compliance Theory: A Case Study Approach in Understanding Organizational Commitment
Nelson J. Celis
Spokesperson, AES Watch
Posted from DLSU Business & Economics Review (2018)
May 26, 2018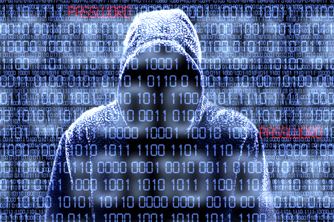 Combining the qualitative and quantitative analyses of the compliance behavior of the Bureau of Internal Revenue and the Commission on Elections (Comelec), this paper contributes to the theorization of regulatory compliance in understanding organizational commitment with electronic commerce and related laws involving the use of IT in the Philippine context with detailed elucidation of the variables influencing it.
---
The Myth of the Hacker-Proof Voting Machine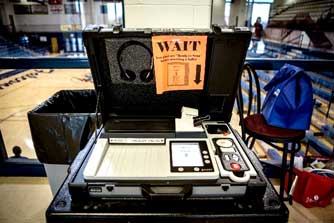 By Kim Zetter / New York Times / Feb. 21, 2018 Posted by CenPEG Feb. 26, 2018
In the 15 years since electronic voting machines were first adopted by many states, numerous reports by computer scientists have shown nearly every make and model to be vulnerable to hacking. The systems were not initially designed with robust security in mind, and even where security features were included, experts have found them to be poorly implemented with glaring holes.
---
Smartmatic and the Venezuela Electoral Fraud
Hector A. Barrios
Posted by CenPEG.org
Sept. 4, 2017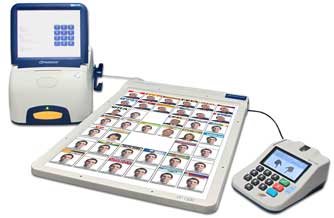 Smartmatic voting machine used in Venezuela (Business Wire photo)
If Smartmatic discerned data manipulation, then it must have had access to data, and not only that, it must have had the means to distinguish right from wrong data. How so?
---
Related Story
Venezuela's Maduro Accuses Smartmatic of Caving to US Pressure
3 August 2017, teleSUR
Posted by CenPEG.org
Venezuelan President Nicolas Maduro accused Smartmatic of caving under pressure from the U.S. Wednesday, adding that the company's allegations were an attempt to tarnish the National Constituent Assembly vote that took place Sunday.
---
The judicious spending of taxpayers' money: Does it matter?
Nelson Celis / Manila Times
Posted by CenPEG
April 11, 2017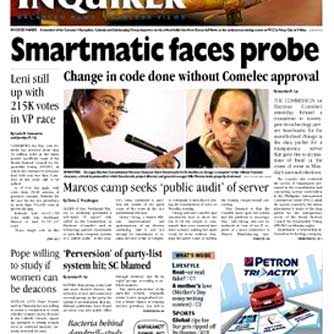 Smartmatic faced probe in the May 9, 2016 elections for reported transparency server tweak
With the COMELEC, as observed by AES Watch, the use of PCOS machines for one day only generated not only controversies for non-compliance with AES law but also mishandling of multi-billion-peso contracts.
---
'Narco politics' cannot be invoked to replace the people's right to vote
CenPEG.org
April 3, 2017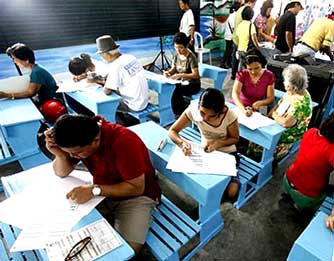 Precinct voters in a barangay election. Philippine Star photo
Any legislation allowing the President to appoint all barangay heads upon the second postponement of elections this October violates the citizens' sovereign right to vote. Such an exercise of a mega power should never be part of any administration as it smacks of authoritarian rule reminiscent of Marcos monolithic regime during martial law. "Narco politics" cannot be invoked to replace the people's right to vote.
---
COMELeak: Telltale sign of poor governance (Part 3)
NELSON CELIS
AES Watch Spokesperson
Manila Times
Feb. 22, 2017
Posted by CenPEG.org


PRESS CONFERENCE of AES Watch on May 11, 2016 at the PLM Manila where its conveners also warned voters on the impact of the Comelec dataleak on counting accuracy. CenPEG photo
If there's no information security policy in a particular organization, then its operational procedures and practices are not at par with information technology (IT) best practices and/or international standards.
---
'COMELeak': Telltale sign of poor governance
Nelson J. Celis (AES Watch spokesperson)
Manila Times opinion column
Posted by CenPEG.org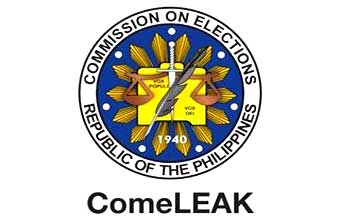 It was indicated in the terms of reference for the 2010 bidding of counting machines that the supplier should be a certified ISO 27000 company. The winning bidder, Smartmatic, was not! The COMELEC tried to cover up that it was practicing ISMS.
---
Were the automated polls a success?
Lito Averia
Manila Times column, July19, 2016 Posted by CenPEG.org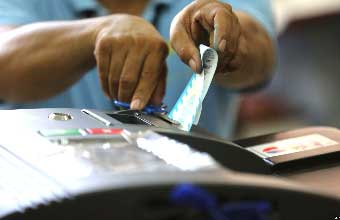 Using a simple non-discriminatory pass-fail assessment, since no other way of rating the performance of the AES had been established, it can be seen that the AES passed in only two (2) of the nine (9) factors listed above.
---
GAME OVER FOR SMARTMATIC; COMELEC SHOULD BE MADE TO ACCOUNT


GAME OVER: AES Watch conveners and poll volunteers call for the junking of Smartmatic, foreign marketing company which has monopolized the election technology system in 2010, 2013, and 2016. CenPEG photo
We owe it to voters' and poll watch groups' vigilance that what could have been a major election disaster characterized by fraud at the national level was mitigated. Contrary to claims of the PPCRV and some foreign observers, however, the elections was far from being a "success" as far as the automation system is concerned – it was even worst compared to the 2010 and 2013 automated elections. (AES Watch press statement, May 11, 2016)
CenPEG.org
May 19, 2016
---
PREPARE FOR THE WORST ON MAY 9, THINK TANK ALERTS VOTERS AND CANDIDATES
CenPEG.org
Posted on May 5, 2016
Is the Comelec dragging the nation to a new round of political uncertainty because of its ill-preparedness in administering the May 9 elections?
---
AES Watch calls on poll body, voters, and watchers: All gears for poll disaster preparedness and recovery on May 9
To ensure transparent, honest and peace elections
CenPEG.org
Posted on May 2, 2016
---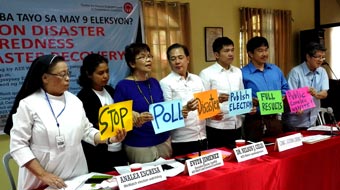 ACTION CALLS: AES Watch leaders show key messages on May 9 polls. (L-R) Sr. Mary John Mananzan (BABAE and Kontra Daya); Analea Escresa, WeWatch; Evita L. Jimenez, AES Watch lead convener and coordinator; Nelson Celis, AES Watch spokesperson; former Rep. Glenn Chong; Atty. Herminio Buerano, Jr., Clean Air coalition; and Hector Barrios, CenPEG Fellow on Systems Studies. CenPEG photo
As the whole nation goes to the polls on May 9 to elect a new president and other thousands of public officials, the poll watchdog Automated Election System Watch (AES Watch) on April 28 called on the Comelec, voters, and candidates to prepare for preparedness as a response to what the poll watchgroup said a looming disaster.
---
Ex-Comelec adviser asks all commissioners to resign
CenPEG News
March 11, 2016

A former Comelec adviser today told all poll commissioners led by Andres Bautista to resign if they cannot implement the Supreme Court (SC) order on voter receipts.
---
On the practicability of voting machine receipts
H.A. Barrios
CenPEG.org
March 8, 2016
By itself, your vote receipt has no practical use. You cannot check if it has been included or excluded in the election return. You cannot affirm or complain about the election results based on your vote receipt. This is because the receipt represents your individual act while the election return represents the collective act of your precinct.
---
Implications of a court ruling that voting receipts are the VVPAT
H.A. Barrios
CenPEG.org
March 8, 2016
A ruling that vote receipts are required as the VVPAT would preempt further debate and establish by inference that the voting act is deemed completed upon putting the ballot in the machine. By that ruling, the receipt would be considered as the document that represents the act of election.
---
VIDEO of AES Watch's TAPAT demo & mock election July 2015 at Pamantasan ng Lungson ng Maynila
---

#18IACC THEME ANNOUNCED: TOGETHER FOR DEVELOPMENT, PEACE AND SECURITY: NOW IS THE TIME TO ACT
18TH IACC, DENMARK, OCTOBER 22 TO 24, 2018
Posted by CenPEG
---
Speakers raise issues on a shift to federalism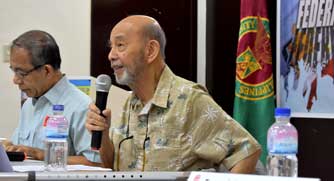 Jose V. Abueva (r) gives the keynote address; to his right is Temario C. Rivera
As the Philippine Congress took a break from weeks of stormy debates on constitutional change with the forming of the Puno consultative committee on charter change, the Center for People Empowerment in Governance (CenPEG) held a one-day conference on the fractious issue.
---
One Year of Duterte Presidency: Deeper Issues and Challenges
CenPEG News
July 21, 2017
Four days ahead of President Duterte's second State of the Nation Address (SONA), CenPEG Fellows appraised the presidential performance based on issues and challenges during Duterte's first year – July 2016 to June 2017. In a public forum organized by CenPEG on July 20, 2017, the CenPEG Fellows assessed the presidential performance covering issues on governance leadership, economic directions, foreign policy, government peace talks with the Left, the Bangsamoro peace road and Marawi crisis, and the war on illegal drugs.
---
Revisiting Istanbul Principles and its Relevance to Philippine CSOs
March 21, 2017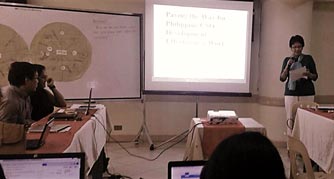 Evita Jimenez (right, standing) talks on development effectiveness. CenPEG photo
"Development effectiveness must coalesce with other sectors including professionals, local scientists, inventors, and educators, as well as small entrepreneurs and producers." - Evita L. Jimenez, CenPEG Executive Director
---
Paving the Way for Philippine CSO Development Effectiveness Work
---
Calls for resumption of talks mount


Government and NDFP negotiators in last year's Oslo talks.Photo by Kodao
THINK TANKS PRESS FOR BILATERAL CEASEFIRE AGREEMENT
"Total War" will only fuel armed struggle
CenPEG.org
February 8, 2017
No "total war" policy has ever succeeded since Marcos and full-scale anti-insurgency has only added fuel to the revolutionary movement of the CPP-NPA.
---
Now more than ever, resume the peace talks!
February 8, 2017
Statement of the Philippine Ecumenical Peace Platform calling for the resumption of the peace talks between the government and the National Democratic Front of the Philippines
---
Interview with US-based Filipino intellectual Kenneth Bauzon on the Duterte presidency
FIRE-STORM FROM THE BOONDOCKS:
Understanding "Little Brown Brother's" Realpolitik
E. SAN JUAN, Jr.
Emeritus Professor of Ethnic Studies & Comparative Literature; Professorial Lecturer, Polytechnic University of the Philippines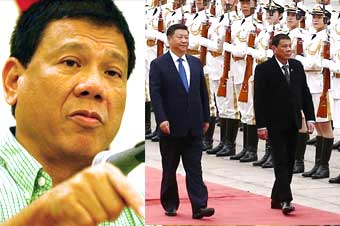 President Duterte (left photo) and with Chinese President Xi Jinping in Beijing, Oct. 20, 2016 (right photo)
---
CenPEG tapped as resource group in peace talks
Oct. 4, 2016 CenPEG.org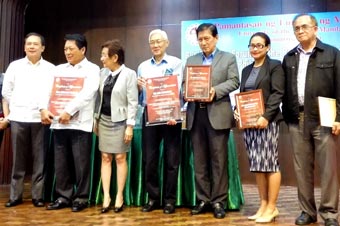 At the PLM public policy forum are (L-R) PLM Executive Vice President Nelson J. Celis, GRP chief negotiator Silvestre Bello III, PLM President Lenny de Jesus, NDFP chief negotiator Luis Jalandoni, Jose Luis Yulo, lawyer Nashmyleen Adap Marohomsalic, and Prof. Bobby Tuazon. CenPEG photo
In the resumed talks between the Government of the Republic of the Philippines (GRP) and the NDFP under the Duterte administration, CenPEG has served as a resource group in various forums and symposia organized by stakeholder organizations, universities, and other institutions.
---
TRACKING THE DUTERTE ADMINISTRATION
Views and prognosis by CenPEG Fellows in 8th State of the Presidency
CenPEG News
August 1, 2016n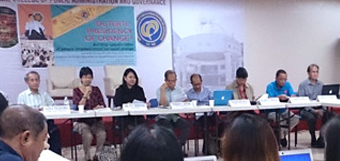 (SoP 2016 opens): Moderator CenPEG Executive Director Evi Jimenez (2nd from left, head panel) opens the 8th State of the Presidency round-table discussion together with NCPAG Dean Maria Fe Mendoza and CenPEG Fellows. CenPEG photo
Held in cooperation with the Dean's office of the National College of Public Administration and Governance (NCPAG) of UP in Diliman as well as the Integrated Development Studies Institute (IDSI), CenPEG's annual SoP last July 28 had nine Fellows taking turns looking into RRD's policy pronouncements that were also underscored during the president's first State of the Nation Address (SONA, July 25).
---
2016 SOP papers
---
Duterte's plan to hold bilateral talks with China 'most practical way out' - CenPEG prof
By Rosette Adel (philstar.com) |
Updated July 14, 2016 - 9:55pm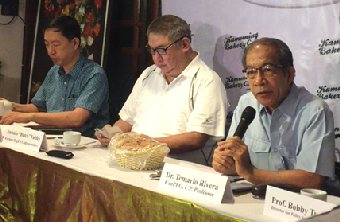 UP Professor Temario Rivera of CenPEG said bilateral talks with China is the most practical solution.
PROSPECTS AND CHALLENGES UNDER THE DUTERTE PRESIDENCY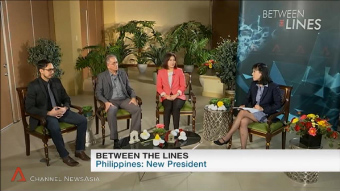 Watch CenPEG's Director for Policy Studies, Prof. Bobby Tuazon (second from left), talk on the new Duterte presidency together with other political analysts, in a TV interview by Singapore's Channel News Asia (CNA) on "Between the Lines", May 29, 2016. Political maverick Rodrigo Duterte is set to be sworn in as the 16th President of the Philippines, after winning a comfortable election victory. Can he live up to his promises to end the old ways of doing things? Our expert panel in Manila warns, if he doesn't properly manage expectations, he could be swept out by the grievance politics he tapped into to get elected.
---
Experts: Nuisance bets reflect disillusionment, uneven playing field
By Levi Mora (philstar.com) |
Updated October 28, 2015 - 3:43pm
Posted by CenPEG from philstar.com
"This (dominance of elite) is one compelling reason for calling the election system as an unfair playing field, not competitive, and limits access to the poor but definitely qualified candidates." - Prof. Bobby Tuazon
---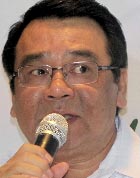 Partylist solon presses for tax cuts
One of the tax measures pending in the House of Representatives if House Bill (HB) 5401. Authored by Bayan Muna Partylist Reps. Neri Colmenares and Carlos Isagani Zarate, the bill seeks to restructure income brackets and rates of individual income tax.
---
---

A DISPATCH FROM THE 'BELLY OF THE BEAST'
U.S.-based scholar E. San Juan, Jr. interviews Bill Fletcher Jr., African-American public intellectual
"I do not anticipate any changes in the near future in the absence of a movement on the ground in the USA that pushes the US on foreign policy generally and the US/Philippines relationship in particular. Frankly, the relationship is very comfortable for the USA and the ruling circles see no reason to change this." - Bill Fletcher, Jr.
---
WORKING FOR THE FEW Political capture and economic inequality
Oxfam Briefing Paper, Jan. 20, 2014
Posted by CenPEG.org (Jan. 27, 2014)
Economic inequality is rapidly increasing in the majority of countries. The wealth of the world is divided in two: almost half going to the richest one percent; the other half to the remaining 99 percent. The bottom half of the world's population owns the same as the richest 85 people in the world.
---
The 8-Day Palestine-Israel War
Nov. 29, 2012 was the UN-declared International Day of Solidarity with the Palestinian People. (The following day, Palestine – whose 8 million people have lived mostly in Palestinian territory occupied by Israel since 1967 – received its non-state member status from the UN General Assembly.) The Philippine Interfaith Solidarity Forum on Palestine was held on Nov. 29 at the National Council of Churches in the Philippines (NCCP), Quezon City, where CenPEG Fellow Bobby M. Tuazon gave a talk.

CenPEG launches 15th book
Probing Duterte's Foreign Policy in the New Regional Order
CenPEG.org
March 13, 2018
Probing Duterte's Foreign Policy in the New Regional Order: ASEAN, China, and the US appraises the Philippine president's foreign policy in the first one-and-a-half years of the presidency. CenPEG's 15th book is also timely amid the new regional order in Asia as well as the tectonic shifts in global politics today.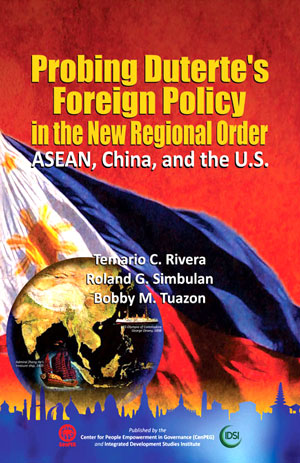 ---
LISTEN LIVE on DZRH's Radyo Balintataw, 6 p.m. (Philippine time), this Sunday January 21, 2018: CenPEG's Temy Rivera and Bobby Tuazon tackle Federalism & constitutional change with anchorpersons Bel O. Cunanan and Cecille Guidote Alvarez
Log on: www.dzrhnews.com
---
KEY ISSUES ON FEDERALISM: A Policy Action Conference
February 7, 2018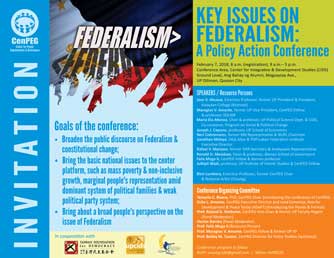 ---
Institutional reforms needed to fight corruption – CenPEG
CenPEG.org
Nov. 30, 2017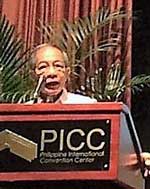 Having a "decisive" president is not enough to curb corruption in the government bureaucracy. Decisive leadership should be accompanied by having a strong state and institutional reforms.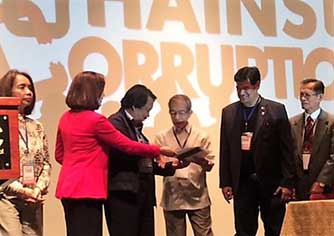 Summit organizers thank Rivera (l-r) Merle J. San Pedro, VACC secretary general; Cory Quirino; Dante L. Jimenez, VACC founding president; Martin Dino, current VACC chair; and lawyer Eligio Mallari. CenPEG photo
---
10th China-ASEAN Think Tank Forum held in Nanning, China
CenPEG News
Nov. 30, 2017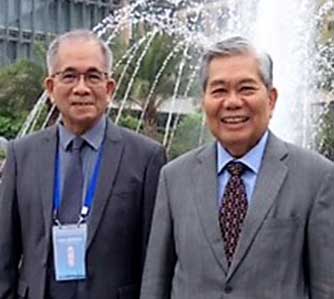 Tuazon, left, with Ambassador Villacorta of APPPFI. CenPEG photo
Think tanks thus promote better understanding, consensus, clarity of objectives as well as predicted results which the BRI needs in charting economic interconnectivity across diverse civilizations, three continents, and 60 countries.
---
SUMMER IN BIKOL FIELDS 
Learning governance at ground level 

CenPEG.org
Posted on August 9, 2017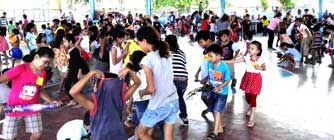 All of them were first timers to Bikol, travelling on June 14 for a 10-hour night trip from Cubao to Naga City where a one-week community immersion awaited them. By the time it was over, the 14 incoming senior political science students from the University of the Philippines (Manila) took with them narratives of living with the simple folk of a remote barangay in Canaman, Camarines Sur, immersing under conditions of rural poverty, and experiencing ground realities never seen or discussed inside a UP classroom.
---
Prospects and Intricacies of a Peace Agreement in the GPH-NDFP Negotiations
Bobby M. Tuazon
CenPEG Director for Policy Studies
9th State of the Presidency (SOP)
July 20, 2017
The peace negotiations between the government (GPH) and National Democratic Front of the Philippines (NDFP) resumed last year in an upbeat mood with both sides agreeing to fast track the process. A year later, the talks has lost its steam and is proving to be a difficult and protracted one with a probability of meeting the same fate as in previous negotiations.
---
THE CIA IN THE PHILIPPINES: A BRIEF HISTORY
Roland G. Simbulan
For Filipinos, the fundamental question that we can ask ourselves is, shall we allow this continued intervention in Philippine political and economic life?
---
Singapore envoy sees 'peace and stability' in ASEAN region
March 21, 2017
Anticipating the Association of Southeast Asian Nations' (ASEAN's) 50th anniversary summit in the Philippines late this year, Singapore's ambassador to Manila believes that the regional association has gone a long way with nary any divisive conflict since its membership expansion in the 1990s.
---
Trump's immigration policy has deep roots in US xenophobia, racial prejudice - speaker
CenPEG.org
Feb. 22, 2017
A policy round-table discussion dealing on US President Trump's immigration policy was held on February 21, 2017 at the Japan Hall, GT Toyota Asian Cultural Center, University of the Philippines, in Diliman, Quezon City.
Commentary
Trump's loss, China's gain?
Bobby M. Tuazon Philippine Daily Inquirer, Nov. 23, 2017 Posted by CenPEG Nov. 30, 2017
Far from diminishing strategic interests the US remains the No. 1 economic and military power in the world. In due time Asia's evolving role as the world's growth center will make American power here irrelevant.
---
Commentary
The gathering storm
By: Bobby M. Tuazon - @inquirerdotnet
Philippine Daily Inquirer /
October 05, 2017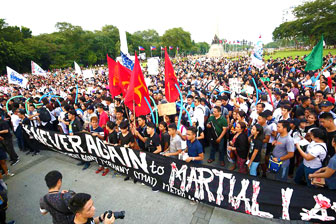 In the months ahead, as the public sympathy that catapulted the Davao City mayor to the presidency begins to crumble and as frustration catches up with the middle-class voters that put him in office, Mr. Duterte will find himself facing a creeping political isolation. But he seems oblivious to any writing on the wall.
---
Commentary
By: Bobby M. Tuazon - @inquirerdotne
Philippine Daily Inquirer / 05:16 AM August 10, 2017
Posted by CenPEG.org Aug. 12, 2017

President Duterte's first year has given us a glimpse of what's in store for the rest of his term.
---
Commentary
Military intransigence in the peace talks
By: Bobby M. Tuazon - @inquirerdotnet Philippine Daily Inquirer / April 21, 2017 Posted by CenPEG.org April 25, 2017


Two Army soldiers, second and third from left, released by the NPA April 19, 2017 in Davao del Sur, southern Philippines. (Photo courtesy of Kodao)
---
Commentary
Slim chance of deal in peace talks
By: Bobby M. Tuazon - @inquirerdotnet
Philippine Daily Inquirer January 19, 2017
(Posted by CenPEG)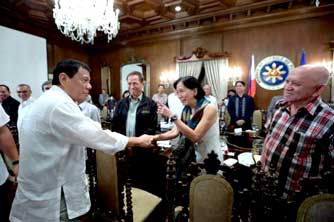 Duterte meets NDFP leaders at People's Palace.
GMANetwork.com photo