New Comelec chair says he's open to other election technologies
The Commission on Elections (Comelec), under its new chair, Andres Bautista, has until late July 2015 to adopt the election technology suited for the May 2016 presidential elections.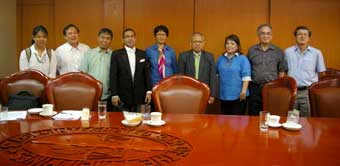 Petitioners against the PCOS contract between the Comelec and Smartmatic meet at the IBP Board Room, Makati, on March 9, 2015. (L-R): Celine Socrates, CenPEG policy researcher; Prof. Nelson Celis, AES Watch; IBP National Secretary Atty. Nasser A. Marohomsalic; Atty. Manuelito R. Luna, AES Watch volunteer counsel; Evi L.Jimenez, CenPEG executive director and AES Watch convener; IBP National President Vicente M. Joyas; Ma. Corazon M. Akol, AES Watch & Namfrel; Prof. Bobby Tuazon, CenPEG director for policy studies; and Mr. Hector. A. Barrios, AES Watch. CenPEG photo
---
---
Crime does not pay for Brillantes, et al
Comelec must explain P3.2B unliquidated cash advances
After a 15-0 defeat in the Supreme Court (SC) voiding its highly-anomalous and scandalous Resolution 9922 and no-bid contract with its favored foreign vendor, Smartmatic, the Commission on Elections (Comelec) should now explain to the public the Commission on Audit's (CoA) report of its whopping P3.214 unliquidated cash advances in 2013 under the watch of its former chairman, Sixto Brillantes, Jr.
---
Congress oversight body hears alternative poll automation system
JCOC welcomed the holding of a public demo to be hosted by the oversight committee where IT experts can show that the Smartmatic-supplied PCOS machine can be tampered. Before he retired, Comelec Chairman Sixto Brillantes dared Lagman to show that the system can be tampered. Brillantes later backtracked on his challenge. But AES Watchasked the committee to allow the public demo adding that public interest takes precedence over Smartmatic's refusal due to alleged proprietary rights.
---
The Year in Elections, 2014
Afghanistan, Syria and Bahrain the worst elections in 2014
---
VOTING TECHNOLOGY: IS IT SECURE YET?
In particular, the foreign owned big business Smartmatic's non compliant PCOS technology, based on AES Watch studies and a long list of PCOS technical glitches and discrepancies, is Not SECURE and NOT ACCURATE
---
High Court set to hear oral arguments on suits filed vs Comelec, Smartmatic
CenPEG.org
March 3, 2015
THE SUPREME COURT (SC) is expected anytime soon to set the oral arguments on the separate petitions for injunction and temporary restraining order (TRO) filed by citizens election watch groups and a national lawyers' organization against the Commission on Elections (Comelec) and Smartmatic-TIM, a Venezuelan marketing company.
---
CONGRESS ASKED TO HOLD DEMO ON PCOS HACKING
Before Comelec chair Brillantes retires Feb. 2
The Automated Election System Watch (AES Watch), a broad citizens' election watchdog of 40-plus affiliated organizations, today asked Congress to conduct a demonstration to test whether Comelec's PCOS voting system can be hacked.
---
25 Bishops ask poll body to stop midnight deal with Smartmatic
Many contracts have been awarded to the Venezuelan company, Smartmatic, since 2010 to automate Philippine elections now amounting to billions of taxpayers' money despite undisputed findings by citizens' election watchdogs, IT experts, and other groups with regard to non-compliance by both Comelec and Smartmatic of election and procurement laws that compromised the transparency, security, accuracy, and trustworthiness of the automated election system.
---
2 poll watch coalitions stage rally vs Comelec-Smartmatic midnight deal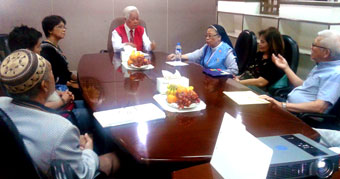 AES Watch Conveners face Comelec's Brillantes: (counter clockwise) Former Comelec Commissioner Gus Lagman, Maricor Akol, Mother Mary John Manansan, Brillantes, CenPEG's Evi Jimenez, Glenn Chong, and retiring Commissioner Elias Yusoph. CenPEG photo
More mass protests will be launched to demand the Brillantes-led Comelec to rescind its midnight resolution of Dec. 23 awarding P300 million-contract to Smartmatic for the diagnostic tests of 80,000 PCOS machines and ban the non-compliant foreign vendor from participating in current and future election public bidding.
---
AES Watch questions Comelec-Smartmatic midnight deal
January 7, 2015
Why did the Comelec award a new contract with the foreign company Smartmatic on Dec. 23 last year – without any prior or post-announcement and when the whole country was already on vacation for Christmas? Why is Comelec Chairman Sixto Brillantes, Jr., now saying the deal had to be made without public bidding for reason of lack of time?
---
Remittance with Representation: The right to vote of overseas Filipinos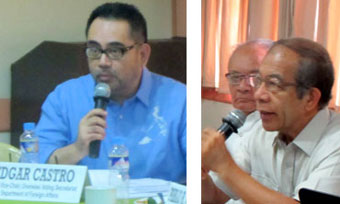 CenPEG chair Temario Rivera (right photo) opens the conference while foreign affairs department's acting chair for Overseas Voting Secretariat Edgar Castro (left photo) responds during a session. CenPEG photo
(Dec. 4, 2014) Since the law's enactment, four elections have been held – 2004, 2007, 2010, and 2013. From a relatively high voter turnout of 65% in 2004, however, the turnout has dropped to a dismal 16% in 2013 – 118,823 out of 975,263 who registered.
---
How to rig an automated election in the Philippines
Rene B. Azurin, Strategic Perspective
BusinessWorld
Posted by CenPEG
November 13, 2014
COMMISSION ON ELECTIONS (Comelec) chairman Sixto Brillantes Jr. has effectively admitted that Comelec's implementation of a computerized election system has been flawed all along.

Finally bearing fruit or foiled again?
Center for People Empowerment in Governance 
12:01 AM | Philippine Daily Inquirer, Talk of the Town,
A10 Sunday, January 4th, 2015
While without an FOI law the citizenry has admittedly had mixed success in combating corruption and other governance issues, a bad FOI law could make that common concern even more problematic.
---
New defense deal with U.S. needs Senate concurrence, opponents say
CenPEG position paper read at Senate foreign relations committee hearing


Senate foreign affairs committee members led by Sen. Miriam Defensor-Santiago. CenPEG photo
The Philippine Senate's foreign relations committee, on Dec. 1, 2014, was set to file a resolution expressing the upper legislative chamber's "disappointment" over the signing of the Enhanced Defense Cooperation Agreement (EDCA) without Senate concurrence.
---
Download the papers here >>>
---
CenPEG vice chair on dzmm interview on VFA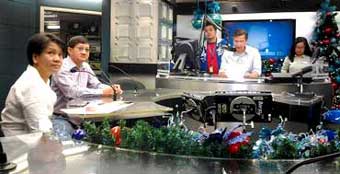 CenPeg Vice Chair Professor Roland G. Simbulan was interviewed extensively with Atty. Evalyn Ursua by tele-radio DZMM anchor Henry Omaga Diaz last October 25, 2014 about the murder of Jennifer Laude and the issue of jurisdiction and custody under the Visiting Forces Agreement (VFA).
---
CenPEG's 4th Roundtable: Canadian professor talks on 'globalization of war'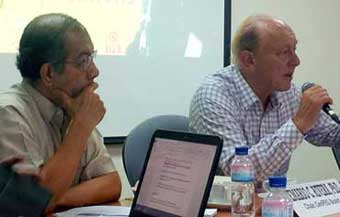 Michel Chossudovsky (right) stresses as point as CenPEG's Temario C. Rivera listens. (CenPEG photo)
Michel Chossudovsky, emeritus professor at the University of Ottawa, spoke on the "globalization of war" at CenPEG's fourth Roundtable Discussion on Oct. 14, 2014, University of the Philippines' Asian Center.
---
In the wake of the Laude killing:
Congress asked to probe US forces' behavior & "state of mental health" -- CenPEG
The Center for People Empowerment in Governance (CenPEG) today supported inquiries on the Oct. 12 murder of Jeffrey "Jennifer" Laude in Olongapo City being sought by Sen. Miriam Defensor-Santiago in the Senate and the Makabayan bloc in the lower House. Murder charges have been filed against the suspect, Pvt. 1st Class Joseph Scott Pemberton of the US Marine Corps.
---
Cooperation and security increasing youth awareness on Asia-Pacific security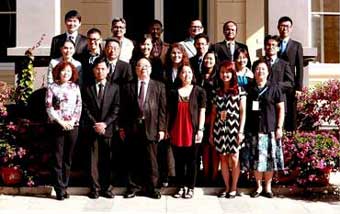 The Council for Security Cooperation in the Asia Pacific (CSCAP) China, in collaboration with the China Institute of International Studies (CIIS), hosted the first Asia-Pacific Young Scholars Workshop on September 1-10, 2014 in Beijing and Shanghai, China. Seventeen young scholars from different countries in the Asia-Pacific Region, including CenPEG Policy Researcher Danica Panelo, were invited to participate in the workshop for the purpose of increasing youth awareness on regional security issues and preparing today's generation to become efficient leaders in the near future.

WORKING FOR THE FEW Political capture and economic inequality
Oxfam Briefing Paper, Jan. 20, 2014
Posted by CenPEG.org (Jan. 27, 2014)
Economic inequality is rapidly increasing in the majority of countries. The wealth of the world is divided in two: almost half going to the richest one percent; the other half to the remaining 99 percent. The bottom half of the world's population owns the same as the richest 85 people in the world.
---
The 8-Day Palestine-Israel War
Nov. 29, 2012 was the UN-declared International Day of Solidarity with the Palestinian People. (The following day, Palestine – whose 8 million people have lived mostly in Palestinian territory occupied by Israel since 1967 – received its non-state member status from the UN General Assembly.) The Philippine Interfaith Solidarity Forum on Palestine was held on Nov. 29 at the National Council of Churches in the Philippines (NCCP), Quezon City, where CenPEG Fellow Bobby M. Tuazon gave a talk.